Multi-lamp systems
Utilising our vast experience and knowledge in the design and manufacture of ultraviolet systems, the UVAQ range of ultraviolet
water disinfection systems are compact, economical UV systems range.
Using this knowledge of the manufacture of many different ultraviolet systems over 30+ years of the ultraviolet water disinfection
industry the UVAQ range benefits from this knowledge and experience to bring you the best system to suit your requirements.
The UVAQ system utilises common place single ended low pressure UV lamps as well as many spares that are common in the industry
allowing you to benefit from the evolution of ultraviolet systems by having a modern 'hybrid' system coupled with the familiarity of
the more traditional system. This also gives you an economical system to run with regards to power and spares/consumables.
SYNT Ultraviolet UVAQ range of UV systems have many features included as standard that are usually extra cost options in many other systems on the market.
Simple To Service
Electropolished Chamber
Commonplace UV Lamps
Lamp / Electrical Failure Indicator
UV Lamp Status Indicator
Volt free (dry) contacts
Long life / High Reliability UV Lamp
Minimum 10 Bar Working Pressure
Simple To Install
Audible lamp fail indicator
Visual lamp failure indicator
Lamp life (days remaining) digital display
Total operating days
The following table gives details on the sizing of the UVAQ range of UV Systems. To choose the correct unit simply match the application/flowrate against the system you require. If in doubt, please contact your local stockist or our head office.
Larger systems are availible. Please go to your multilamp page. We also specialise in bespoke systems, so please contact us with your requirements. 
Our stainless-steel chambers are manufactured in our factory in the UK and with our 30+ years of chamber design and manufacture; our extensive range of 316 stainless steel chambers are designed to meet domestic and industrial stringent requirements.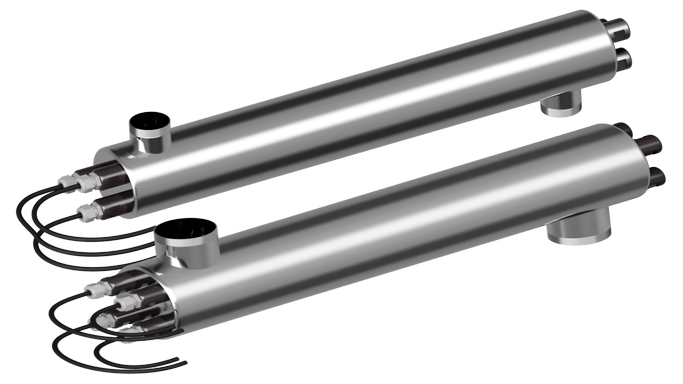 It is important that any particulates or sediment in the water does not obstruct the UV light. We would advise that a 5-micron sediment pre filter is fitted before the chamber to remove contamination. We can recommend and supply a range of compatible filter units to match the UV chambers capacity and any water quality issues you may have. We will be pleased to advise when choosing a UV system. With our experience in the water industry, we can advise and recommend other water treatment options.
As specialists in all aspects of ultraviolet light technology we have decades of experience within the sector, including water treatment, air and surface disinfection, security and hygiene inspection, from design and manufacture to customer support and after sales care.
Our core sales, design and manufacturing team have been working within the ultraviolet industry since the 1990's, originally stemming from employees of UV systems Ltd and Wedeco, Ex managing director of Daro UV systems along with general manager of Daro UV systems are all part our current team. We have in house facilities to design and manufacture bespoke UV systems as well as our own expanding standard product range.